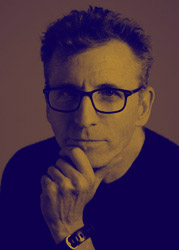 A native of Pittsburgh, PA, Toolin grew up in a mixed middle-class/working-class neighborhood located between blue-collar steel industries and white-collar corporate campuses. His neighbors held a wide variety of jobs: corporate executive, engineer, huckster, mail carrier and steel worker were just some. Being the 1970s, he was strongly influenced by the Civil Rights and Feminist movements, finding himself at odds with the regressive values held by many of his neighbors. At an early age he found himself swimming against the current and feeling socially dislocated, both on the local and national levels.

Photography became the perfect teenage companion. Learning to photograph, process and print became an obsession, and it supplanted the conventional teenage social life with his schoolmates. It provided the sense of accomplishment and identity that was lacking elsewhere, and it led him to study photography as an art.

Toolin studied photography as an undergraduate at Ohio University, and photography and performance art as a graduate student at San Jose State University. The late Barbara DeGenevieve was chair of his graduate committee: she encouraged his predisposition for art that intertwines personal and social-political perspectives. He was also fortunate to work with Latino political artist Rupert Garcia, and new media artist Joel Slayton, both of whom provided critical thinking and inspiration. Since those early years he has practiced interdisciplinary art, working both independently and collaboratively. His art is conceptually driven and expresses social-political concerns about life in global cities. A theme that runs through much of the work is the psychological impact of economic pressure upon individuals: psychoeconomics.

He was a founding member of the New Media collaborative group C5, based in Silicon Valley. As a group they were part of the late 90s and early 2000s pioneering effort to explore the growing presence of data in our lives. Their projects considered the impact of 'big data,' internet privacy and identity, artificial intelligence and the database landscape.

Toolin teaches various aspects of technological art, including history, theory and production, in both lecture and studio settings. He is Adjunct Assistant Professor at New York University and Pace University. His pedagogical expertise lies in intertwining history, theory, technology and aesthetics in fine art.